Would you rather not cut holes in any walls or doors inside your house? Do you have a sliding glass door with aluminum frame leading out to the patio? Then the Ideal Pet Patio Door™ with all of its customizable options is right for you.
Pet Door Features Include:
Available in two finishes: Silver (Mill) or White to match your patio door
Single Flexible Clear Vinyl Flap
Single Pane Clear Tempered Glass
Weather strip for weather-tight seal
Great for cats and dogs
Available in two adjustable heights:
Standard patio door heights 77 5/8" to 80 3/8" (80")
Shorty™patio door heights 75" to 77 3/4" (75")
For help measuring, see graphic below.
Standard 80" or Shorty 75"
| Door Size | Flap Size | Silver (Mil) | White Door | Recommended Weight | Pet Door Rise* |
| --- | --- | --- | --- | --- | --- |
| Reg Cat Flap | 6 1/4" x 6 1/4" | PATCFM | PATCFW | 2 - 12 Lbs. | 4" |
| ChubbyKat | 7 1/2" x 10 1/2" | PATCKM | PATCKW | 2 - 25 Lbs. | 4" |
| Small | 5" x 7" | PATSM | PATSW | 2 - 12 Lbs. | 2" |
| Medium | 7" x 11 1/4" | PATMM | PATMW | 13 - 35 Lbs. | 4" |
| Extra Large | 10 1/2" x 15" | PATXLM | PATXLW | 36 - 90 Lbs. | 8" |
| Super Large | 15" x 20" | PATSLM | PATSLW | 91 - 120 Lbs. | 8" |
*Pet door rise is the distance of the pet door from the floor.

Need help aligning your patio door with your new pet door?
It's easier than you think. This explains what's going on. And this is how you adjust your patio door roller.
Demo Video
Installation Video
Here's another installation video
Flap Replacement Video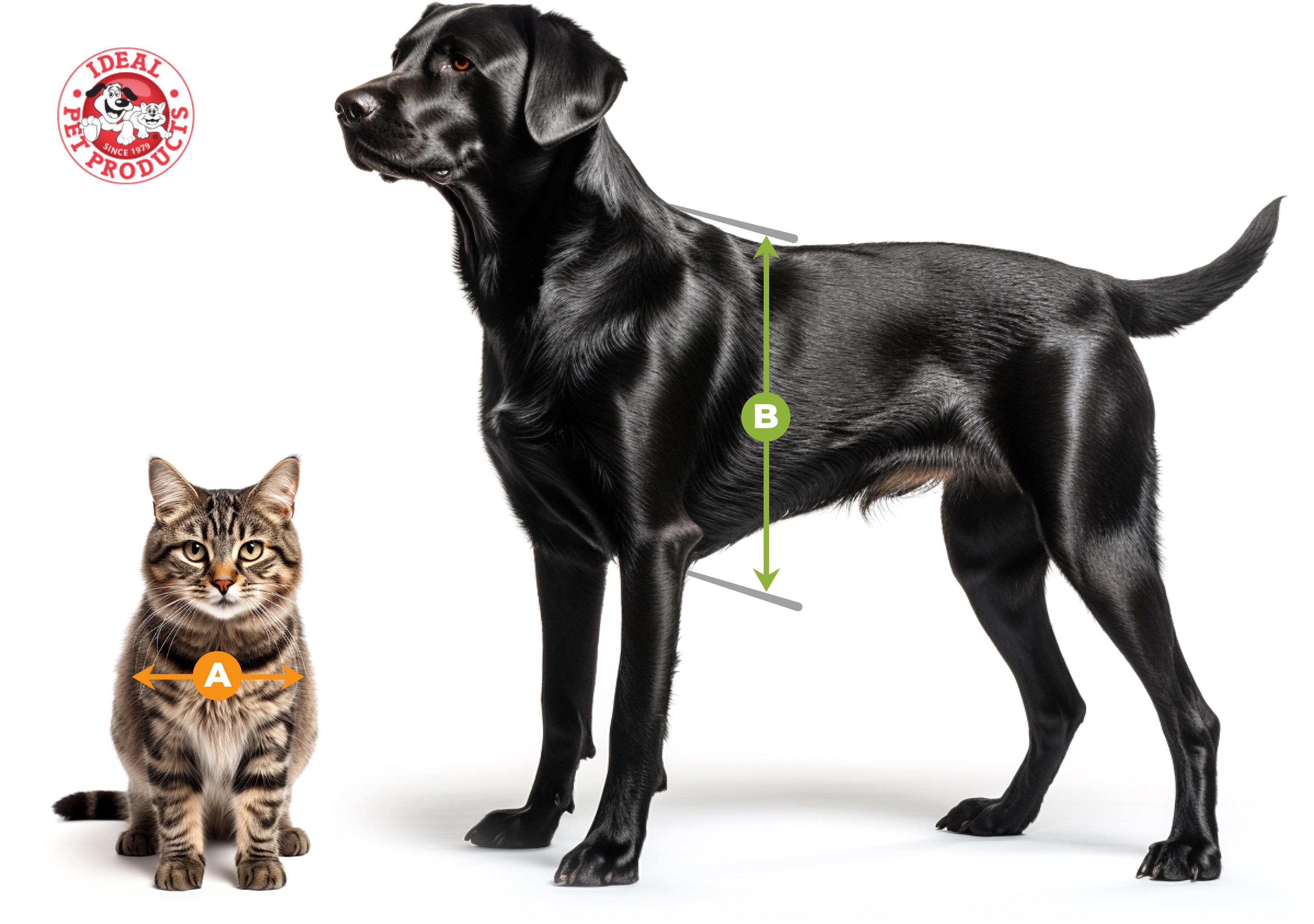 To determine the correct size door, simply measure the width (A) and height (B) of your pet.
(A) Measure the widest point of your pet's shoulder.
(B) Measure from the top of your pet's back (just behind their head) to the bottom of chest.
Pet door models have different size openings. Just make sure your new pet door's opening is both wider and taller than your pet's measurements to ensure they can comfortably pass through.
Great product! We ordered the wrong style to fit our patio door. The company worked with us to return it and order the one we needed. Works perfect!

Works well but it has to be removed when locking sliding doors.

Check return policy before purchase

I tried the standard size, too big, but from Home Depot so I could return. I bought shorty on the company website and it is too small. I rigged it to work for the summer but the seal is terrible and I will have to take it out for winter. Sadly I didn't read to return policy, not worth the cost to return.

Easy to install, and looks fine! My dog figured out how to use it in two minutes. I had inherited a similar door panel with a smaller flap, also made by Ideal Pet, from the previous homeowner- my smaller dog used that one for many years. These products are built to last and affordable too, highly recommend! Also: my dog tried to chew the clear flap, did some damage, then gave up. It still works okay though. I like knowing that in the future I can order a replacement flap, which I plan to do once she gets a little older.

This is our second Ideal Pet Products cat door. The first we purchased 6 years ago to see if it would work in our situation. Well it worked and worked so well that when we needed another door there was no question as to which door to buy. Economical, easy to install, easy to train the pets to use all make it a value purchase.

cat door for the cat house!!!

i have a cat house off my bedroom. i purchased the catdoor for the sliding glass, worked perfect, except the catdoor made to much noise at night. so i removed the door flap, all is perfect now.

I just recently accepted a kitty into my home. She was abandoned, but wanted to have access to lanai. So a friend of mine had purchased this pet door so she recommended it to me. Long story short, I purchased it. It came all the way from California to Florida in a week's time. So I am thinking fast delivery! Easy to put in the sliding door and my cat got use to it almost immediately. So far holding up well. Would recommend.

Basically happy with it. It works!

The door arrived packaged well. It was easy to install. My only issue has to do with the weather stripping. I know it can't be ease to design something that can fit all windows, however, there should be a better way to seal the gaps.

My door is a short version and I had few options. This pet door works great, dogs and cat figured it out immediately. It is white as my door so they look great together.

Easy to install. Fit perfectly.