We know that Perfect Pets come in all shapes and sizes, so we offer products that fit your family's needs. This large cat door is specially designed for cats weighing up to 25 pounds.
Pet Door Features Include:
Transparent unbreakable LEXAN flap 7-1/2" x 10-1/2" flap with 4-way lock
Durable plastic frame that adapts to doors ranging from 1-1/4" to 1-3/4" in thickness
Interior or exterior use
Ideal large pet door for cats

| Pet Door Style/Size | Pet Door Model # | Thickness Range of Door | Cat Door Flap Size | Pet Door Cutout Size | Recommended Weight Range of Pet |
| --- | --- | --- | --- | --- | --- |
| ChubbyKat™ | TK | 1-1/4" to 1-3/4" | 7-1/2" x 10-1/2" | 8-1/4" x 13-3/4" | 2 to 25 Lbs. |
Demo Video
Installation Video
Flap Replacement Video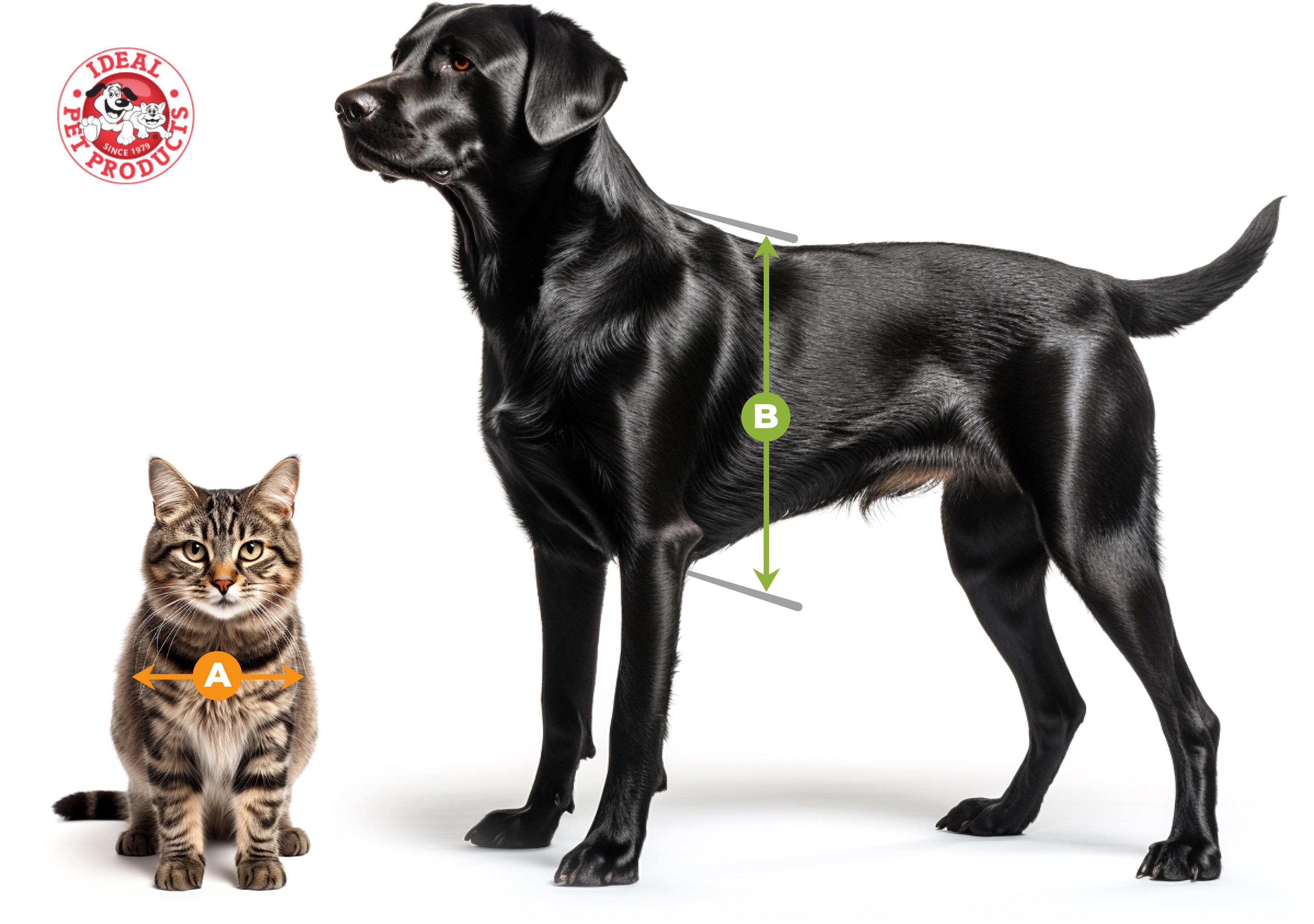 To determine the correct size door, simply measure the width (A) and height (B) of your pet.
(A) Measure the widest point of your pet's shoulder.
(B) Measure from the top of your pet's back (just behind their head) to the bottom of chest.
Pet door models have different size openings. Just make sure your new pet door's opening is both wider and taller than your pet's measurements to ensure they can comfortably pass through.
fast arrival , looks good .

I don't have exceptionally big or chubby cats, but I do have cats that LOVE this cat door. They like that they can sit in front of it and actually see out, instead of the regular tiny doors where that is more difficult. This door just makes sense for any cat. It swings open easily and I can control direction of opening, or lock it closed altogether. That is a wonderful feature. It is well made, fits any door, and I have also used it through the wall on our tiny home. It may be plastic but it is sturdily made, I've never had a problem with them, and the first one I bought is still functioning perfectly after close to 20 years. It is the only cat door I will purchase for my cats!

I saved a pet door from an old door I was removing. Turns out it was this very door, I got three years out of the used door before the weather strip gave out. There are two cats using this door several times a day with no issues. This door does a good job keeping our the weather and it's installed in a North facing wall The concern I have seen is a paw cam misstep and change the settings and possibly lock themselves out. I use packing tape over the lock to prevent this from happening.

Works great. Easy to install.

I liked how easy it was to install, and it works great.

Keeps the weather out. Well thought out design.

I reused a pet door from a door I replaced for a customer. Overtime the weatherstrip came off. I am the caretaker of an MC/FC, a big girl, and a chunky Tabby boy. As it turns out this is the same door that I liked so much, This is a good size, seals tight without making it hard to use and the locking mechanism comes in handy during medication and Dr. visits as they can not escape to the catio.

Nice clean design, with good instructions, fits well and the cats are not afraid of it.

I've used Ideal products many times. Good quality and ease of installation. I've got eight cats. The biggest, Kona Kona saw the "ChubbyCat descriptor and was offended! I changed his name to Snowflake.

Recently built an enclosed cat patio for my 4 year old Russian Blue. I live on a busy street so allowing him to be an outside cat wasn't an option for me. I utilized the cat door by placing into a piece of plywood that was fitted perfectly for my bedroom window and allows unlimited access to and from his patio area. He needed a little encouragement at first to understand how the door works, but he's a pro now. He's a decently large cat, not fat by any means, and the large cat door is perfect for him. He's about 12lbs and 13in from floor to shoulders. Like my headline says, so far, so good!