Vinyl Flap WITHOUT Side Clips.
FLAP SIZES:
5"x 9-1/4"(S), 7-1/4"x13"(M), 9-3/4"x17"(L/XL), 15"x23-1/2"(XLG/SL)
Note: Replacement Flaps are Sold Individually.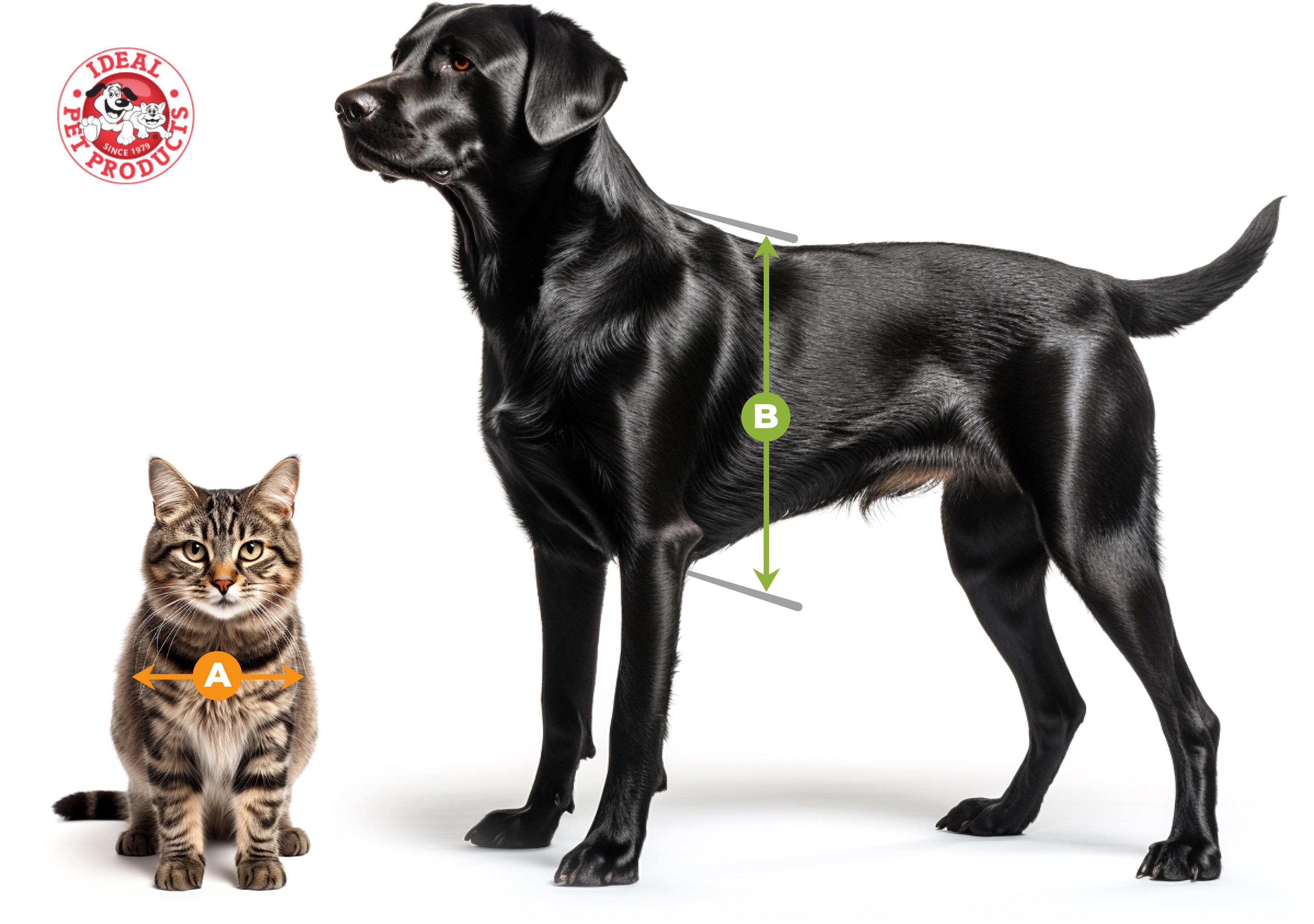 To determine the correct size door, simply measure the width (A) and height (B) of your pet.
(A) Measure the widest point of your pet's shoulder.
(B) Measure from the top of your pet's back (just behind their head) to the bottom of chest.
Pet door models have different size openings. Just make sure your new pet door's opening is both wider and taller than your pet's measurements to ensure they can comfortably pass through.
After finally finding the right size, so happy to replace my old panels! Quality is good and it should last years! Easy to install with just a screwdriver.

My original doggie door flaps were getting in bad shape so I purchased this replacement and it was perfect. It took me about 10 minutes to replace each flap - that's it! I needed only a screwdriver and to read the clear directions.

Great replacement panels that were easy to install.

Have been ordering dog products from Ideal pet Products for many years and have never been unsatisfied with them.

Easy to replace and install. Overpriced, but I suspect a completely new door is as well. This approach is easier than replacing the entire door.

The door flaps are pretty decent. They came with big stickers on them, that discolors the clear vinyl, which was disappointing. It did wear off after a week or so and numerous cleaning, but not what you expect for something new. They lose shape pretty fast on the sides, but overall should get me a year or 1.5 year of usage with two dogs.

Trying to find replacements for my doggie door is no fun. I had ordered some flaps that advertised at the size I was wanting and when I got them they were too big. But I finally found the right place to go and the replacement flaps fit perfectly. They were so easy to install and now I'm happy. I only hope they are still available when I need to replace these.

Bought 2 of these flaps and the fur frame channels to replace the originals after a couple of years. These aren't tinted though like the originals, but that's not a big deal to me. Easy to install and it seals well again with the new flap and fur channels. My only frustration is how expensive the replacement parts are! It would have been cheaper to just buy a whole new door after adding up the cost of the 2 flaps and fur frame channels. Obviously I didn't though because then I would have had to install the whole thing. I ended up just replacing the inside flap and fur frame channels to save some money. I'll replacement the outside one when it gets really bad. I've been happy with the dog door, but can't say the same with the company though since it takes advantage of its customers by overcharging for replacement parts.

Works but wildly overpriced

Product works and fits well. But this is wildly overpriced and the company knows they can charge whatever they want because no other company sells this size.

Great fit. Good replacement for original. The top needs to be reinforced so the holes don't stretch out so quickly. $100 for 2 replacement flaps is ridiculous.