Specifically Designed For Wall Installation...
Comes Complete, No Additional Parts Or Wall Kit Needed!
Pet Door Features Include:
Structural foam plastic frame designed for installation in walls from 4-1/4" to 9-1/4" thickness
Double, flexible clear vinyl flaps create an "Air-Lock" for maximum insulation and energy efficiency
Animal Lock Out Slide included
Includes all hardware, template and detailed instructions.

| Pet Doors Style/Size | Pet Door Model # | Thickness Range of Wall | Pet Door Flap Size | Pet Door Cutout Size | Recommended Weight Range of Pet |
| --- | --- | --- | --- | --- | --- |
| | | | | | |
| Medium | WEPD2M | 4-1/4" to 9-1/4" | 7-1/4" x 13" | 8-3/8" x 15" | 13 to 35 Lbs. |
| Extra Large | WEPD2XL | 4-1/4" to 9-1/4" | 9-3/4" x 17" | 11-1/8" x 19-1/4" | 36 to 90 Lbs. |
| | | | | | |
Demo Video
Installation Video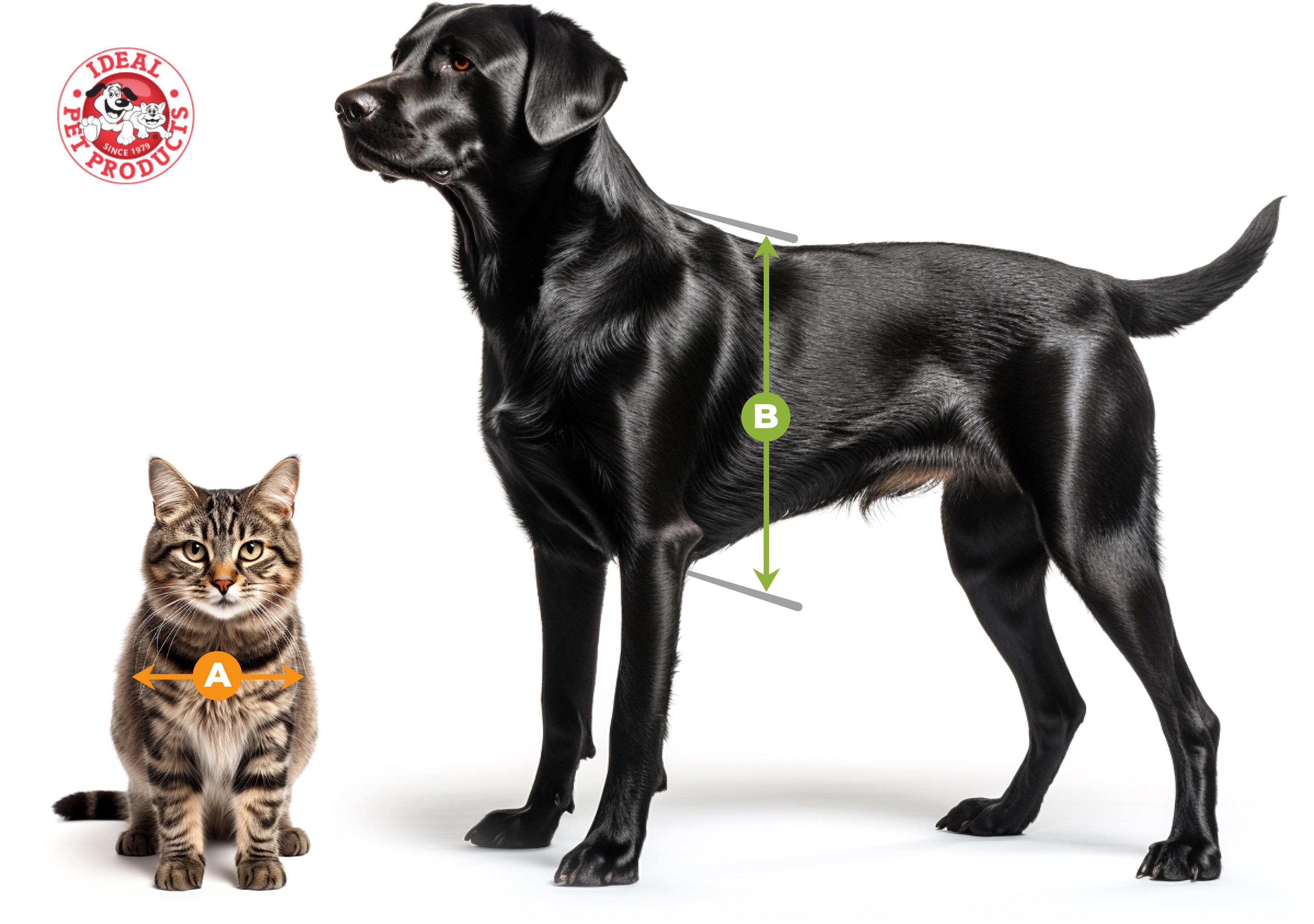 To determine the correct size door, simply measure the width (A) and height (B) of your pet.
(A) Measure the widest point of your pet's shoulder.
(B) Measure from the top of your pet's back (just behind their head) to the bottom of chest.
Pet door models have different size openings. Just make sure your new pet door's opening is both wider and taller than your pet's measurements to ensure they can comfortably pass through.
Easy installation, and very good quality. I use for cats. It's easy for them to get in and out. I also appreciate how the flap stays shut even on windy days. Satisfied.

My dog loves it. I also don't have to keep opening the door win win

Easy install great instructions

A to Z first class service!!

Great customer service. Fantastic products! Fast shipping & handling!

Just the best doggie door!!

The Ideal Pet Products doggie door is excellent quality. The price is very good for the quality you get, plus free shipping. We received ours within just a few days of placing our order. We received shipping confirmation and a tracking number the day after we placed our order. We installed our door in a 8-1/2" thick wall with Stucco on the outside. Installation went perfect with the instructions, which were super easy to follow. All of the templates were perfect. We are extremely happy with our purchase. And our dog loves her door!! Thank you!

Excellent quality Easy to install FAST ship

THANK YOU so much for the new pet door! 1. Shipping was EXTREMELY FAST, delivered on a SUNDAY morning! 2. THANK YOU for the "newer easier design" for installing!! I purchased the same type, model and brand in 2008 (14 yrs. ago) and it had long bolts to connect outside and inside panels, frame. WHAT a PAIN to install!! This new one slipped right in the previous cut out! It took me longer to take the old one out than installing the new one!! 3. Thanks for the COOL collar! Regards and THANKS again for your A+ quality and excellent customer service!! CHEERS

I had a slide dog door before installing this one and quite frankly, I don't understand the hesitation and fear of cutting a hole in my wall to the outside. Once I've accomplished the project, I don't know why I didn't do this years ago. Installation with this system was super easy and with the guided video, that's just the cherry on top. Thank you for a great system!

Great Door for a wide wall

The door is very well designed and built and was easy to install in a wide wall (2x6 construction) the expansion capability built into the door door provided a professional finish. I would recommend this door for any size wall it is a quality door.

This was the perfect choice for our family, it was a very easy install (Once you get over cutting a hole n your house!) It took me about an hour an half to install and it looks great! I am very happy with this purchase.

My nephew installed the door for me and he said it was very easy to install. Unfortunately, because I have broken my leg and cannot get to the garage where the door was installed, I do not have my dogs at home. Hopefully they will like the door as much as I do once they can come home. It is nice looking too!