Whether you have endless summers or harsh winters, we have the right pet door for your Ideal Pet. Our Designer Series Ruff-Weather™ Pet Door was designed to handle all types of climate conditions, while boasting great energy efficiency, thanks to this door's double flap feature!
Pet Door Features Include:
Structural foam light grey plastic frame that adapts to doors ranging from 3/4" to 1-3/4" in thickness
Double, flexible vinyl flaps create a 3 inch air pocket for maximum insulation and energy efficiency
Optional Designer Series Ruff Weather Pet Door Wall Kit is designed for installation in walls from 4-3/4" to 7-1/4" thickness, sold separately
CLICK TO ORDER: Ruff-Weather™ Wall Kit

Pet Doors Style/Size
Pet Door Model #
Thickness Range of Door or Wall (w/optional Wall Kit, purchased separately)
Pet Door Flap Size
Pet Door Cutout Size
Recommended Weight Range of Pet
Small
DSRWS
3/4" to 1-3/4" Door
4-3/4" to 7-1/4" Wall
5" x 9-1/4"
6-1/2" x 11-1/4"
2 to 12 Lbs.
Medium
DSRWM
3/4" to 1-3/4" Door
4-3/4" to 7-1/4" Wall
7-1/4" x 13"
8-3/8" x 15"
13 to 35 Lbs.
Extra Large
DSRWXL
3/4" to 1-3/4" Door
4-3/4" to 7-1/4" Wall
9-3/4" x 17"
11-1/8" x 19-1/4"
36 to 90 Lbs.
Super Large
DSRWSL
3/4" to 1-3/4" Door
4-3/4" to 7-1/4" Wall
15" x 23-1/2"
16-1/4" x 25-3/4"
91 to 120 Lbs.
Demo Video
Installation Video
Flap Replacement Video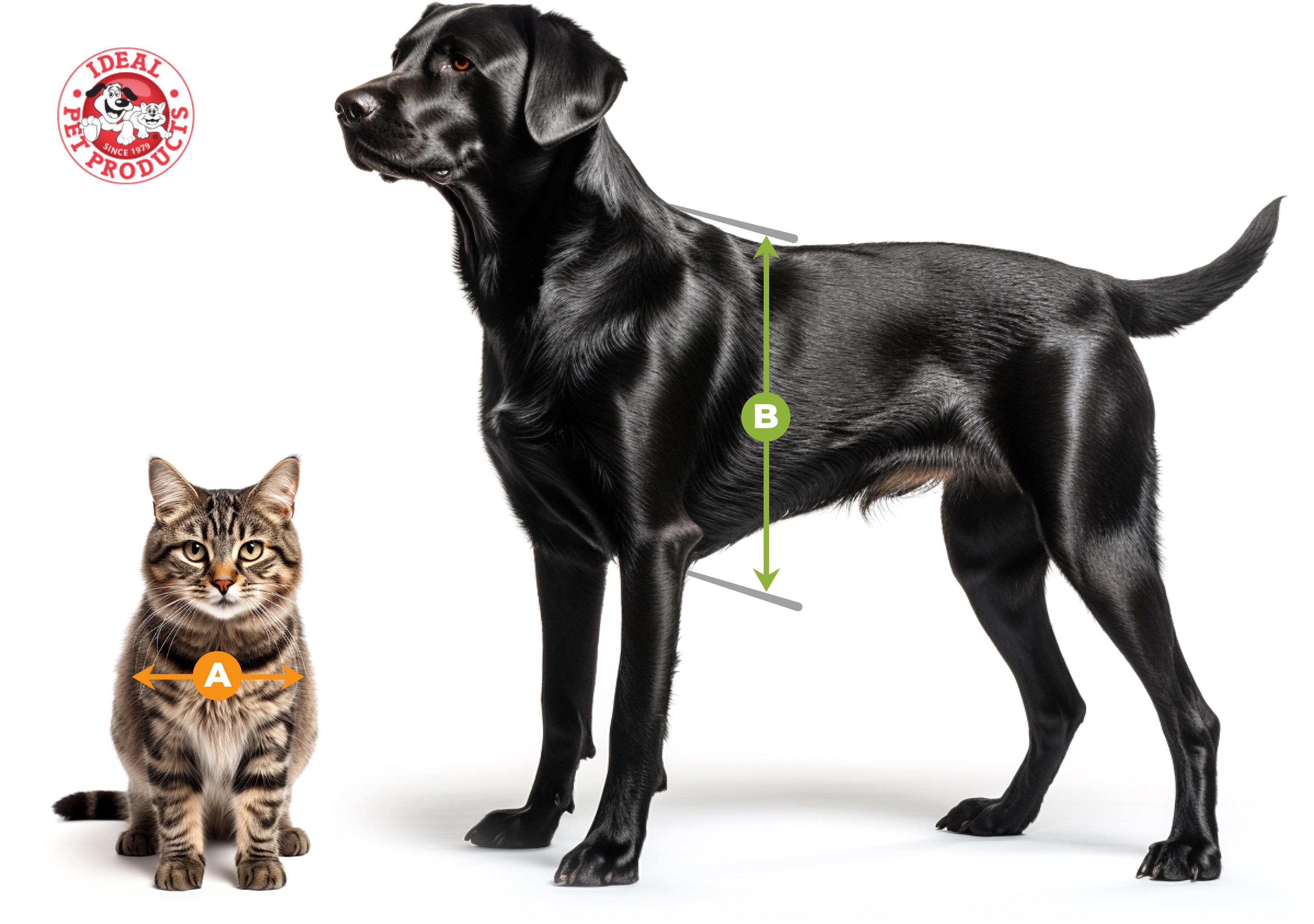 To determine the correct size door, simply measure the width (A) and height (B) of your pet.
(A) Measure the widest point of your pet's shoulder.
(B) Measure from the top of your pet's back (just behind their head) to the bottom of chest.
Pet door models have different size openings. Just make sure your new pet door's opening is both wider and taller than your pet's measurements to ensure they can comfortably pass through.
We thought investing in a more expensive dog door would mean it would last longer. Unfortunately we were wrong. The fur channels were falling off within a year ($15 to replace), and by year 2, the fur channels were again falling off and flaps were so warped they were useless. Total to replace $85! To replace the flaps and fur channels I might as well buy a new dog door for just a bit more!

Haven't opened it yet