Whether you're in a place with endless summers or harsh winters, we have the right pet door for your Ideal Pet. Our Designer Series Ruff-Weather™ Pet Door was designed to handle all types of climate conditions, while boasting great energy efficiency, thanks to this door's double flap feature!
Pet Door Features Include:
Structural foam light grey plastic frame that adapts to doors ranging from 3/4" to 1-3/4" in thickness
Double, flexible vinyl flaps create a 3 inch air pocket for maximum insulation and energy efficiency
Optional Designer Series Ruff Weather Pet Door Wall Kit is designed for installation in walls from 4-3/4" to 7-1/4" thickness, sold separately
CLICK TO ORDER: Ruff-Weather™ Wall Kit

Pet Doors Style/Size
Pet Door Model #
Thickness Range of Door or Wall (w/optional Wall Kit, purchased separately)
Pet Door Flap Size
Pet Door Cutout Size
Recommended Weight Range of Pet
Small
DSRWS
3/4" to 1-3/4" Door
4-3/4" to 7-1/4" Wall
5" x 9-1/4"
6-1/2" x 11-1/4"
2 to 12 Lbs.
Medium
DSRWM
3/4" to 1-3/4" Door
4-3/4" to 7-1/4" Wall
7-1/4" x 13"
8-3/8" x 15"
13 to 35 Lbs.
Extra Large
DSRWXL
3/4" to 1-3/4" Door
4-3/4" to 7-1/4" Wall
9-3/4" x 17"
11-1/8" x 19-1/4"
36 to 90 Lbs.
Super Large
DSRWSL
3/4" to 1-3/4" Door
4-3/4" to 7-1/4" Wall
15" x 23-1/2"
16-1/4" x 25-3/4"
91 to 120 Lbs.
Demo Video
Installation Video
Flap Replacement Video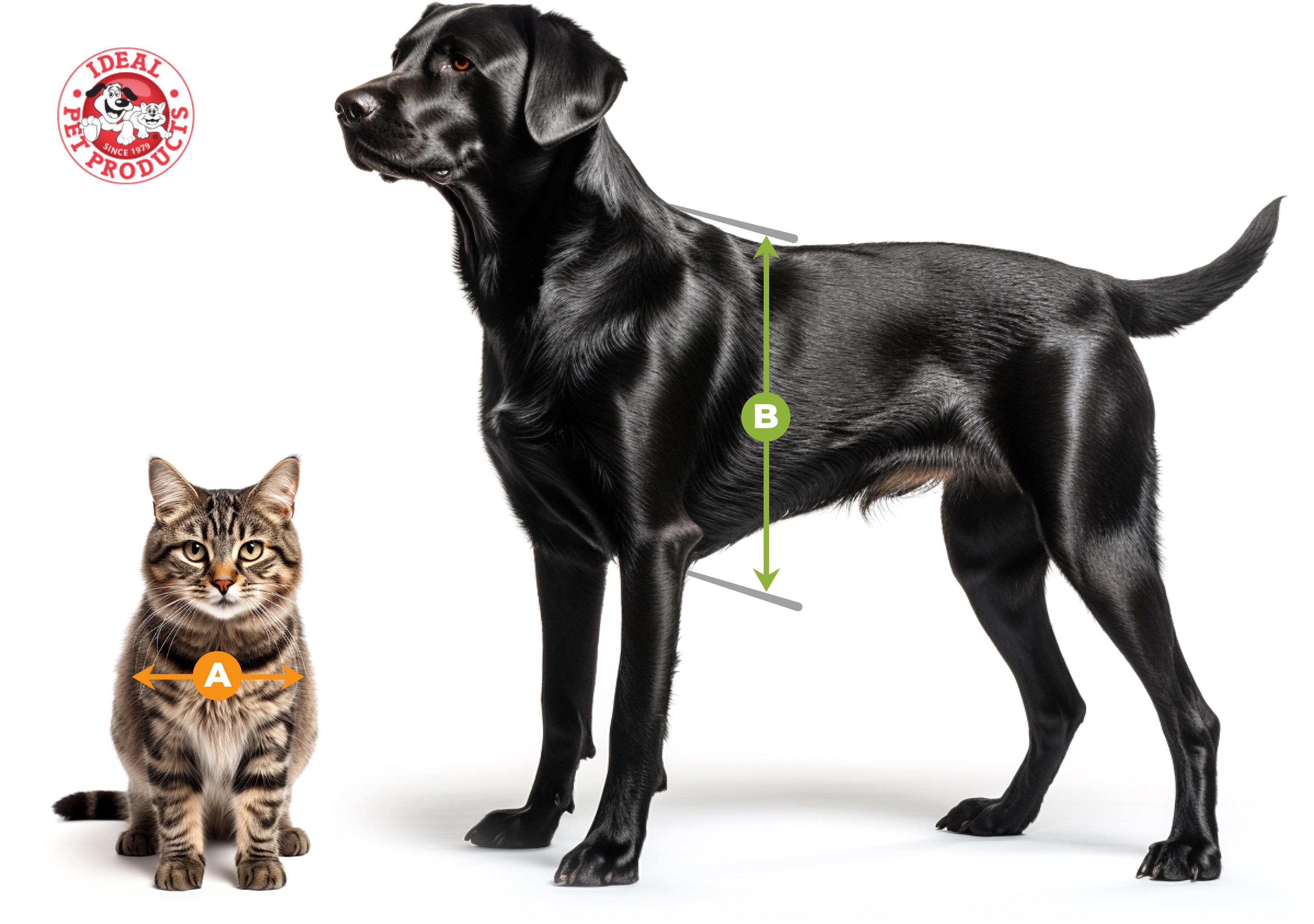 To determine the correct size door, simply measure the width (A) and height (B) of your pet.
(A) Measure the widest point of your pet's shoulder.
(B) Measure from the top of your pet's back (just behind their head) to the bottom of chest.
Pet door models have different size openings. Just make sure your new pet door's opening is both wider and taller than your pet's measurements to ensure they can comfortably pass through.
After several attempts to get the right size of dog door I finally called Ideal Pet Products and gave them the demission's of old dog door and they were able to set me up with the correct size door and wall insert. My old door was 23 years old and just needed to be replaced..

Great Product, Great Instructions!

I'm very happy with this pet door, the instructions were very easy to follow. Videos about the install were a huge help.

What a great product! Ruff Weather Dog SL

At first thought too big for new home but we made it work. Love the quality and the look of it. Dog's been used to a single flap in slider purchases earlier this year, but took right away to this dual door thru the wall. Very very satisfied.

Great product, easy install

This product hit all the high marks: quick delivery. clearly written instructions, and ease of install! I was please at how easy it was to install even without the extra pair of hands the instructions call for.

Ruff Weather for a reason

This is my 2nd one as time like everything else became wore out. 1st one lasted 15 years with minor fixes for 2 boxers. One is 80 lbs the other is 60 lbs. It is installed with wall extension kit. The old one was installed with no under framework and in Arizona heat made it brittle and cracked in the wall. Suggestion: frame out the bottom for stability in the wall. The old one came with 2 doors, 1 in and 1 out. The new one only has 1 locking door. The door is the same size as the old one but with only 4 mounting holes, the old one had 8. I do not see this as a problem. Fit was perfect, 4 outer corner holes matched the same as the old ones. Just wish it came with 2 locking doors. Happy camper here and dogs are safe again.

Great doggie door for our future pups!

We bought this for our future dogs. We have had 3 mini schnausers and will have more in the near future. We had opportunity to install a dog door while the wall was open for other repairs so we went for it. The price is better than the same door at Home Depot and free shipping and it was here in just a few days. Great price, great service and our future Mini Schnausers thank you!

We have used Ideal Pet doors since 2002 or so and have never been disappointed. We have lived in 5 houses. They last a long time and have the flaps to replace them when worn from Dogs coming and going year round. We only bought new frames due to moves. This is our first Ruff weather, very strong and well constructed. We also had the temporary door for sliding doors. Easy to install with good instructions. Great shipping too.

great product used for years

works well

Better made than your standard petsafe door but my dogs don't like stepping thru mutliple surfaces and the large areas in between the two flaps. So my small dogs and my seniors and using the bathroom in the house inside the door. It will work for large dogs of young or medium age only in my opinion.

The dog door is great and install is a breeze. However, the wall kit is a bit finicky and does require some patience, but it is well worth it in the end. The price is definitely on the higher end, but if it last a few years, worth every dollar. Well shall see how it holds up.