Our Designer Series Plastic Pet Door was developed with your Ideal Pet's safety and sense of adventure in mind. With fast and easy installation, it's the most convenient and reliable dog door around!
Pet Door Features Include:
Impact-resistant light grey plastic frame that adapts to doors ranging from 1-1/4" to 2" in thickness
Flexible vinyl flap with patented edges that won't warp from use or extreme temperatures
Floating bottom threshold for perfect seal every time
Lock-out slide to keep your Ideal Pet out of mischief when unsupervised
| Pet Doors Style/Size | Pet Door Model # | Thickness Range for Door | Pet Door Flap Size | Pet Door Cutout Size | Recommended Weight Range of Pet |
| --- | --- | --- | --- | --- | --- |
| Small | DSPPDS | 1-1/4" to 2" | 5" x 7" | 6-1/4" x 9-1/2" | 2 to 12 Lbs. |
| Medium | DSPPDM | 1-1/4" to 2" | 7" x 11 1/4" | 8-1/4" x 13-1/2" | 13 to 35 Lbs. |
| Extra Large | DSPPDXL | 1-1/4" to 2" | 10 1/2" x 15" | 11-3/4" x 17-1/2" | 36 to 90 Lbs. |
| Super Large | DSPPDSL | 1-1/4" to 2" | 15" x 20" | 16-1/2" x 22-1/4" | 91 to 120 Lbs. |
Demo Video
Installation Video
Flap Replacement Video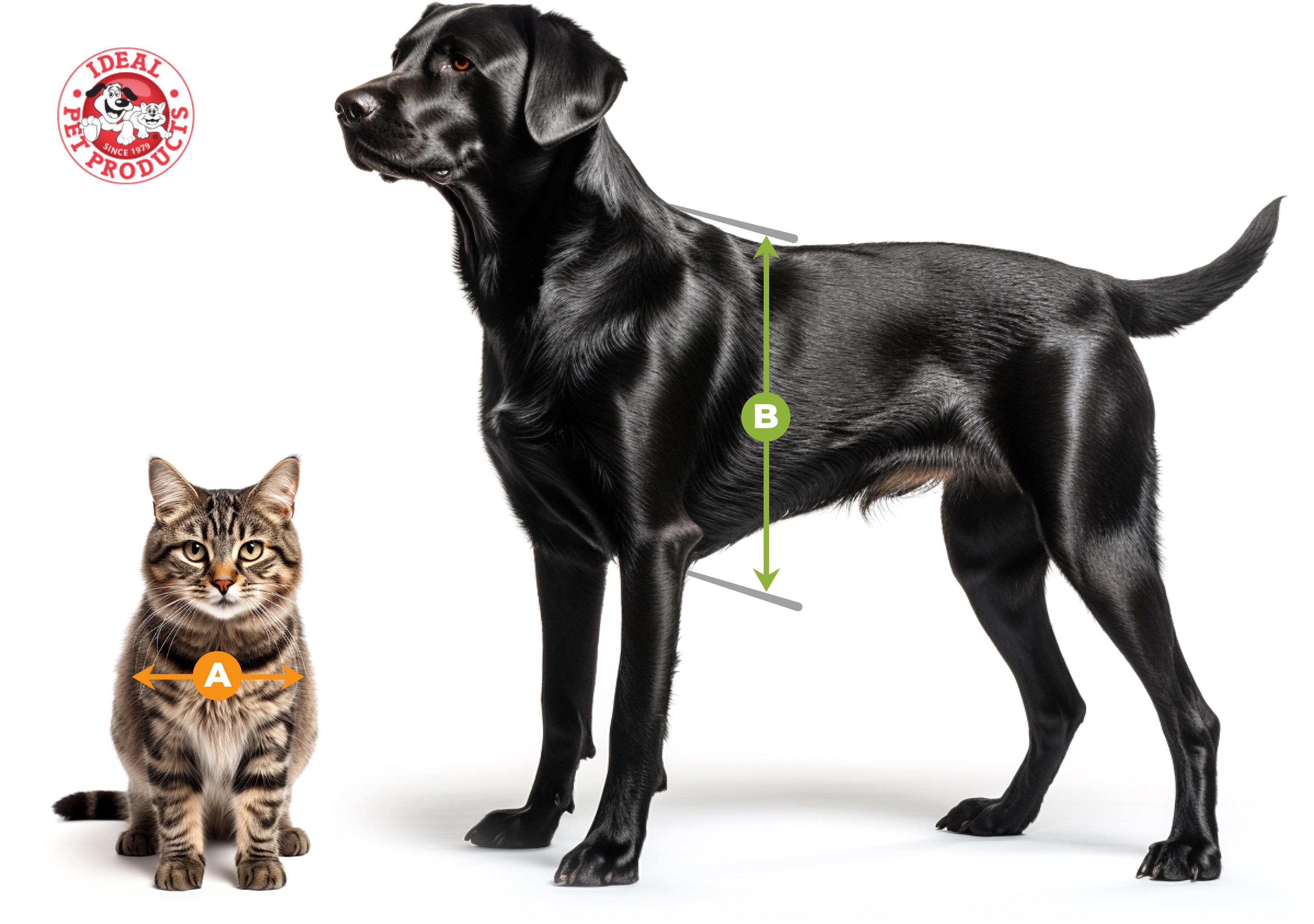 To determine the correct size door, simply measure the width (A) and height (B) of your pet.
(A) Measure the widest point of your pet's shoulder.
(B) Measure from the top of your pet's back (just behind their head) to the bottom of chest.
Pet door models have different size openings. Just make sure your new pet door's opening is both wider and taller than your pet's measurements to ensure they can comfortably pass through.
Ordered a new flap for a pet door that was close to 9 years old that my Heeler had been blasting thru about 97 times a day. New flap showed up on time and was a perfect fit. 10/10 will order again when needed

We finally had to replace our plastic Ideal Pet Dog Door (medium) which we bought 22 years ago. We have only replaced the plastic liner once during that time because we couldn't get it clean anymore. It has held up very well. It finally broke at one of the screws so time to replace. I highly recommend it. The new one fit just perfectly in the current holes.

Quality product. Check dimensions on part before using template to cut hole. Note to MFR: Screws are VERY hard to get in. Resize. Also, the sliding door not being able to stay on main part is an inconvenience. I could help design that better. Its what I do. Thank you.

We have enjoyed the quality, style and security of this pet door for over 25 years. I highly recommend the door for a small pet. We have used the 7 inch for many of our past pets. Installation is quite easy with some careful planning.

Ordered as a replacement. Fit perfectly and very pleased!

The Door is Fine, But My Dogo Argentino Has decided to just run Through the Door to come in When He Desires! It's happened Three times in The 2 Years he's been alive! The Door And Frame are Undamaged!! Good setup if you ask me!

Works great. This is a replacement. Kind of hard to make a dog door that is bloodhound proof.

I gave you 5 stars and if I could I would give you 10 stars. Whoever comes to your website, bookmark it and put it in your favorites. Because if you don't have it, no one will. Yall always come through!!!!

We had a medium size Ideal Pet door for our two smaller dogs for years and loved it. We acquired a Belgian Malinois and had to step up to an extra large door. These doors work perfect for our home and our dogs.

Replacement for older door

I replaced an older door that was about 30 years old. Nice product and I didn't have any issues. The dimensions for the door were a little different, but installation was still pretty easy.