Our Perfect Pet Deluxe Aluminum Pet Door™ was developed with your Perfect Pet's safety and sense of adventure in mind. This dog door comes in multiple sizes for your pet's convenience.
Pet Door Features Include:
Strong Aluminum frame that adapts to doors ranging from 1/2" to 1-3/4" in thickness
Available in white only
Clear vinyl flap with patented edges that won't warp from use or extreme temperatures
Spring loaded Lockout slide™ to keep your Ideal Pet out of mischief when unsupervised
| Pet Door Style/Size | Pet Door Model # | Thickness Range of Door | Pet Doors Flap Size | Pet Door Cutout Size | Recommended Weight Range of Pet |
| --- | --- | --- | --- | --- | --- |
| Medium | DPMW | 1/2" to1-3/4" | 7" x 11-1/4" | 7-1/2" x 13-3/4" | 13 to 35 Lbs. |
| Extra Large | DPXLW | 1/2" to1-3/4" | 10-1/2" x 15" | 11-1/4" x 17-1/2" | 36 to 90 Lbs. |
| Super Large | DPSLW | 1/2" to1-3/4" | 15" x 20" | 15-1/2" x 22-3/8" | 91 to 120 Lbs. |

Demo Video
Installation Video
Flap Replacement Video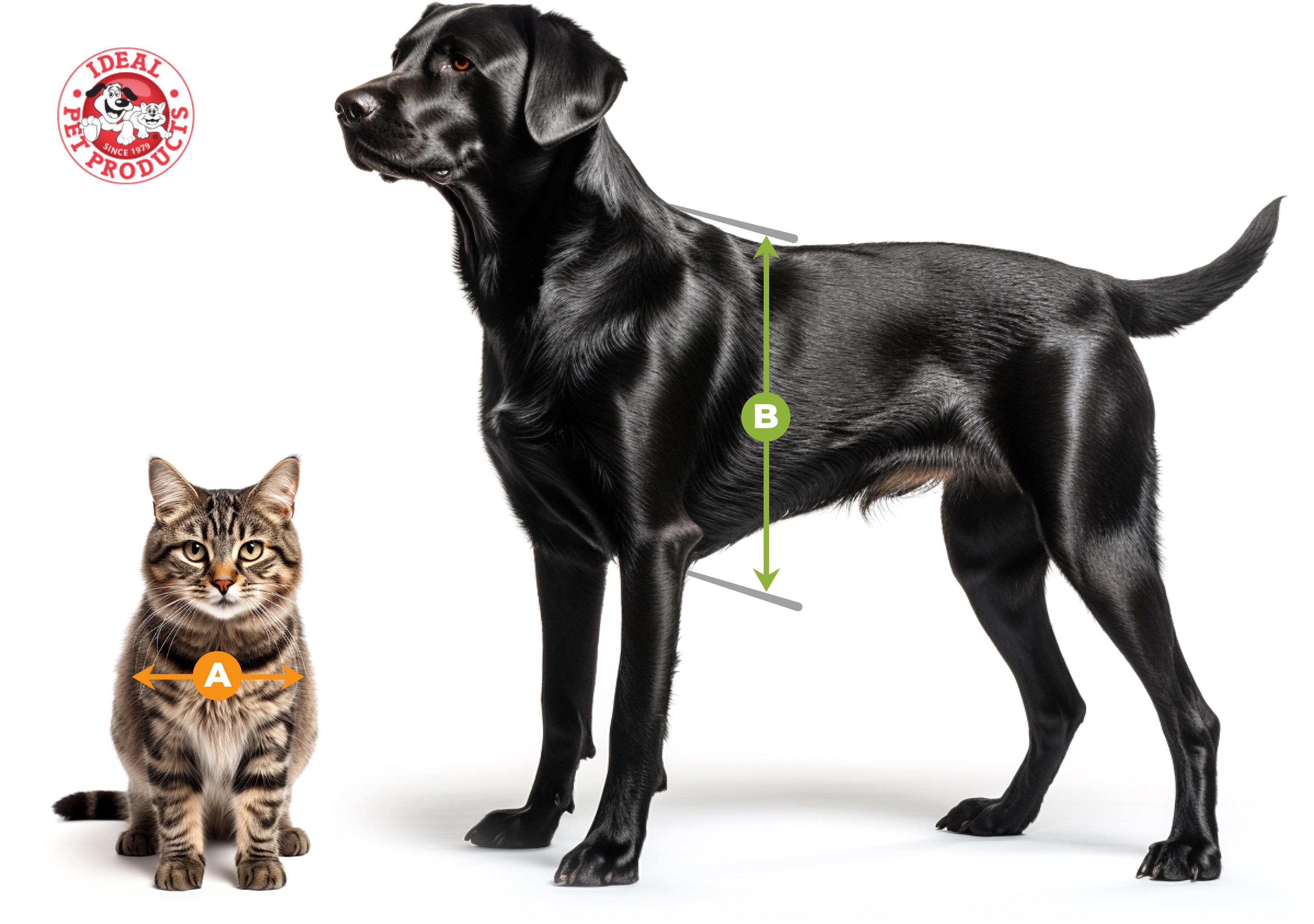 To determine the correct size door, simply measure the width (A) and height (B) of your pet.
(A) Measure the widest point of your pet's shoulder.
(B) Measure from the top of your pet's back (just behind their head) to the bottom of chest.
Pet door models have different size openings. Just make sure your new pet door's opening is both wider and taller than your pet's measurements to ensure they can comfortably pass through.
Installed a new door so we bought a replacement (same) for the old one.

Bought this to replace the one in our sliding glass door panel. Worked great and our 4 huskies haven't destroyed it yet. Good solid product.

Replaced the older style with this newer version since old style replacement flap wasn't easily available anymore. Over all dimensions were identical to old one, so didn't have to cut the door any. But holes were in different positions, so new drilling. Only complaint about it is you have to completely remove frame from door to change flap. Just like the old one. Wish that had been redesigned

Our dog (still a puppy) and ourselves are very happy with the door. She is free to get to the garden and come back inside whenever she wants or needs to so it is super convenient!

Reasonable price for stable door that works well.

This door was exactly as expected. We were replacing one that was 19 years old that was also Ideal. They definitely last a long time.

We have always used Ideal Pet Products for our dog doors. Good quality and good price. Also quick shipping.

Searched high and low for a pet door with a clear see-thru entry vinyl flap, that was not frosted or gray in color. Also wanted the door flap to have a magnet strip on the bottom to keep out wind, insects and such... This door had it all, I'm very pleased with it. Additionally, the company went up-and-beyond the norm to get this to me quickly, after it had went to a wrong address, it quickly made a turn around and came to me.

I replaced our pet door with the same make and model I installed 21 years ago. Good quality stuff, except that this one came with installation screws that did not thread into the blind nuts. I'm still a satisfied customer, though.

Had one for years, bought one for a friend

I've had this model dog door for more than 10 years. A friend got a new dog so I got her one and installed it last weekend.