Looking for a new cat door? Our cat doors were designed to keep your Perfect Pet out of harm's way and prevent unsupervised mischief.
Pet Door Features Include:
Transparent Unbreakable LEXAN™ flap 6-1/4" x 6-1/4" with 4-way lock
Interior or exterior use
Telescoping frame ranging from 1-1/4 to 1-3/4" in thickness
LEXAN is a trademark of SABIC Innovative Plastics™ IP BV
| Pet Door Style/Size | Pet Door Model # | Thickness Range of Door | Cat Door Flap Size | Pet Door Cutout Size | Recommended Weight Range of Pet |
| --- | --- | --- | --- | --- | --- |
| Cat Flap™ | PCF | 1-1/4" to 1-3/4" | 6-1/4" x 6-1/4" | 7-1/2" x 7-1/4" | 2 to 12 Lbs. |
Demo Video
Installation Video
Flap Replacement Video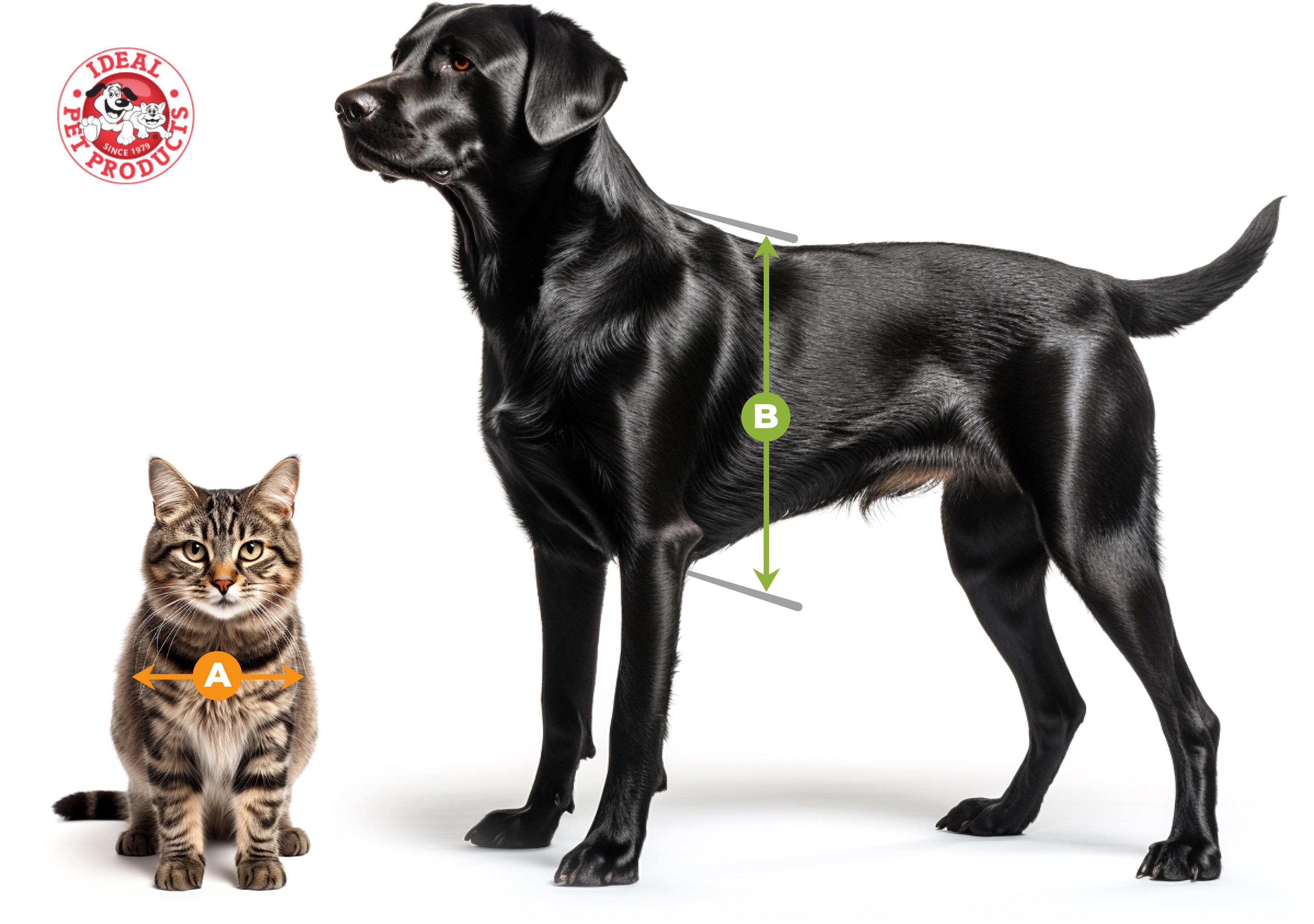 To determine the correct size door, simply measure the width (A) and height (B) of your pet.
(A) Measure the widest point of your pet's shoulder.
(B) Measure from the top of your pet's back (just behind their head) to the bottom of chest.
Pet door models have different size openings. Just make sure your new pet door's opening is both wider and taller than your pet's measurements to ensure they can comfortably pass through.
Works perfectly even on paneled door

My cats love using the door! It's made a big difference in the warmth of my kitchen as now I can keep the door to the unheated basement closed. I am proud that I made it work with the paneled door - I just added 1/2" wood trim where needed to make up the difference in depth of the door.

This flap door for cats was easy to install, and it does what it is supposed to do. Nice. This is the 3rd ideal pet door I have bought over the years for different pets.

Liked it so much… bought a second one!

Tried others first. This ended up working so well that we purchased a second cat door.

The one I bought 15 years ago is still in decent shape other than being dirty and having some of the weather sealant missing. I bought another last year and a 3rd this year for other projects. I'd never consider even looking at another brand.

This is a good cat door but I had to replace the original one because of a lot of cracks in the flap door. The new cat door came with 1 frame screw that had a deformed head and couldn't be used. Customer Service said that they were going to ship a a replacement. This cat door should be redesigned or enhanced to have a more airtight design as well as making the flap door have a little more resistance so the wind doesn't blow it open when it is windy.

It took a day for the cats to start using the cat door. I had to push them through it a few times for them to realize that they could come and go on their own but now they seem to like it. I am glad that I now have a cat door as I am not the door man any more.