Our Perfect Pet Aluminum Modular Pet Patio Door™ is one of our most versatile and aesthetic models. You can easily assemble two modular sections into a full-size Pet Patio Door.
Pet Door Features Include:
Adjustable height for standard aluminum sliding patio door sizes 77-5/8" - 80 3/8"
Available in Silver (Mill) or White finish to match your existing sliding patio door
Sturdy aluminum construction
Clear tempered glass
Security lock
Animal Lock-Out Slide
Standard Pet Door Rise (the distance of the pet door from the floor) on:
Small—2"
Medium—4"
Extra Large—8"
If the sliding patio door needs adjustment to align with your pet door, please click on the "Product Videos" tab below.

| Door Size | Flap Size | Mill Door | White Door | Recommended Weight |
| --- | --- | --- | --- | --- |
| Small | 5" x 7" | PMODPATSM | PMODPATSW | 2 - 12 Lbs. |
| Medium | 7" x 11 1/4" | PMODPATMM | PMODPATMW | 13 - 35 Lbs. |
| Extra Large | 10 1/2" x 15" | PMODPATXLM | PMODPATXLW | 36 - 90 Lbs. |
Standard Pet Door Rise on:
Small - 2"
Medium - 4"
Extra Large - 8"


Demo Video
Installation Video
Flap Replacement Video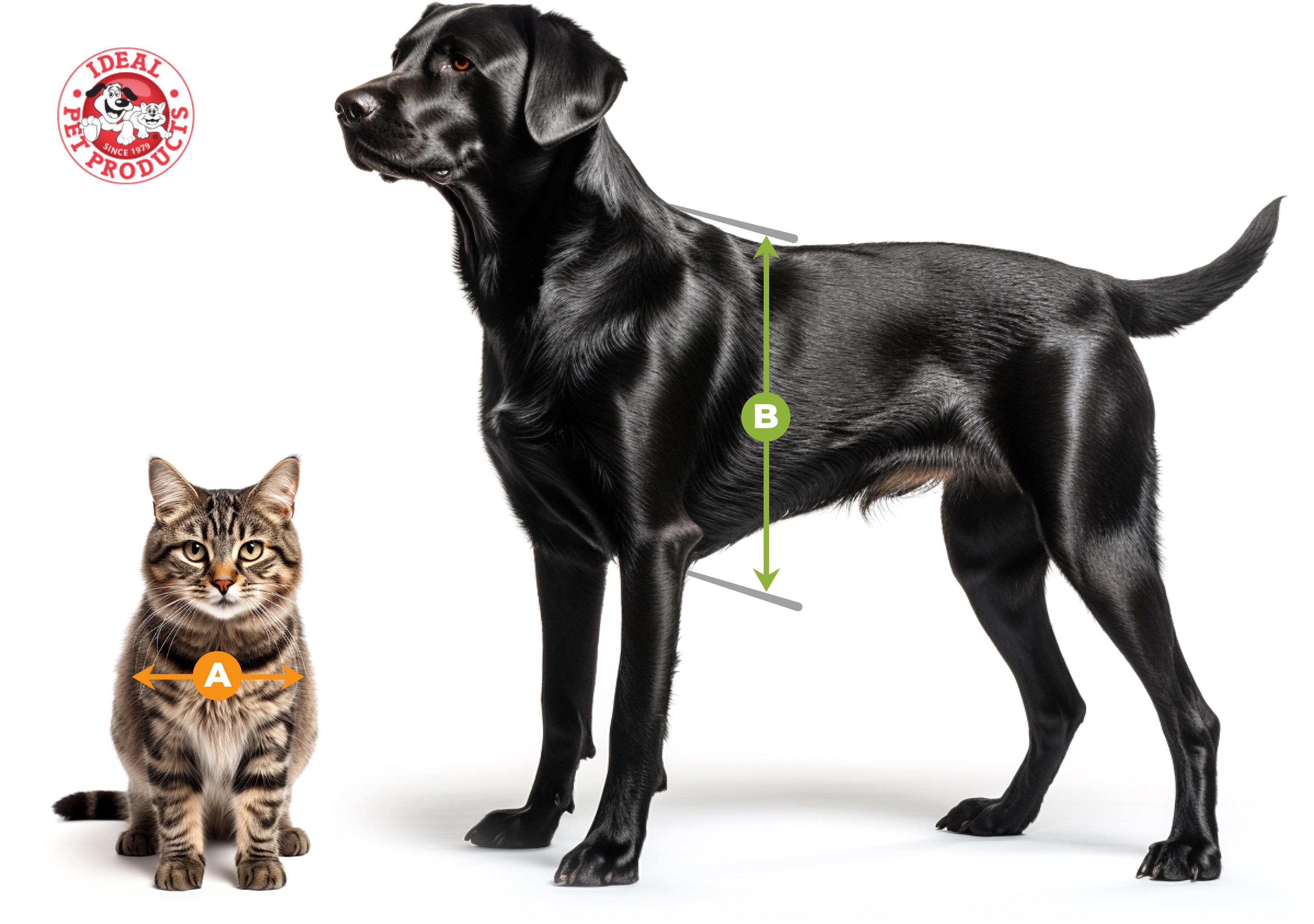 To determine the correct size door, simply measure the width (A) and height (B) of your pet.
(A) Measure the widest point of your pet's shoulder.
(B) Measure from the top of your pet's back (just behind their head) to the bottom of chest.
Pet door models have different size openings. Just make sure your new pet door's opening is both wider and taller than your pet's measurements to ensure they can comfortably pass through.
We have used our sliding door insert, small size for over one month and it couldn't be better. Our small, 11 lb cat didn't want to push open the flex plastic with brilliant design magnetic catch, so I made a plexiglass door with a couple of hinges! The detail and workmanship are very impressive! Highly recommend this company !

Got this door for our cats to go in and out of the sunroom. We had always kept a window open, but the heat and cold was a problem. Now with the door in place, no more problems. Quick and easy to install. Works great. Took a little time for them to get use to.

Best Idea for Renters with Pets

We have used this before when we were renting a house. So when we got relocated for work and put up in an apartment for the next year, we remembered how well this worked and purchased one for our stay here. We love it and more importantly, our dogs love it!