Our AirSeal™ Pet Door features dual pane LEXAN® hard panels with an air gap that's strategically placed in-between for maximum energy efficiency and wind resistance. This pet door's flap was also created with innovative design to keep your Ideal Pet's ears, paws and tails safe and unharmed.
Pet Door Features Include:
Maximum energy efficiency
Easy installation
Telescoping frame adapts to doors of 1-1/4" to 1-3/4" thickness
Small, Medium and Extra Large sizes
Spring-loaded locking slide for one-handed use
Low maintenance and durability
Cleaning the Flap:
Use a clean rag and fresh water to remove any dirt and grime that may accumulate on the flap panel surface. DO NOT USE strong detergents, pine or lemon oil or any type of solvents as these will permanently damage the flap panels and flexible hinges. LEXAN is a trademark of SABIC Innovative Plastics™ IP BV

| Pet Door Style/Size | Pet Door Model # | Thickness Range for Door Frame or Wall | Pet Door Flap Size | Pet Doors Cutout Size | Recommended Weight Range of Pet |
| --- | --- | --- | --- | --- | --- |
| Small | SAS | 1-1/4" to1-3/4" | 6-5/8" x 7-1/4" | 8-1/4" x 9-7/8" | 2 to 12 Lbs. |
| Medium | ASM | 1-1/4" to1-3/4" | 6-5/8" x 11-1/4" | 8-1/4" x 13-3/4" | 13 to 35 Lbs. |
| Large | ASXL | 1-1/4" to1-3/4" | 10-1/4" x 15-3/4" | 12" x 17-1/2" | 36 to 90 Lbs. |
Demo Video
Installation Video
Flap Replacement Video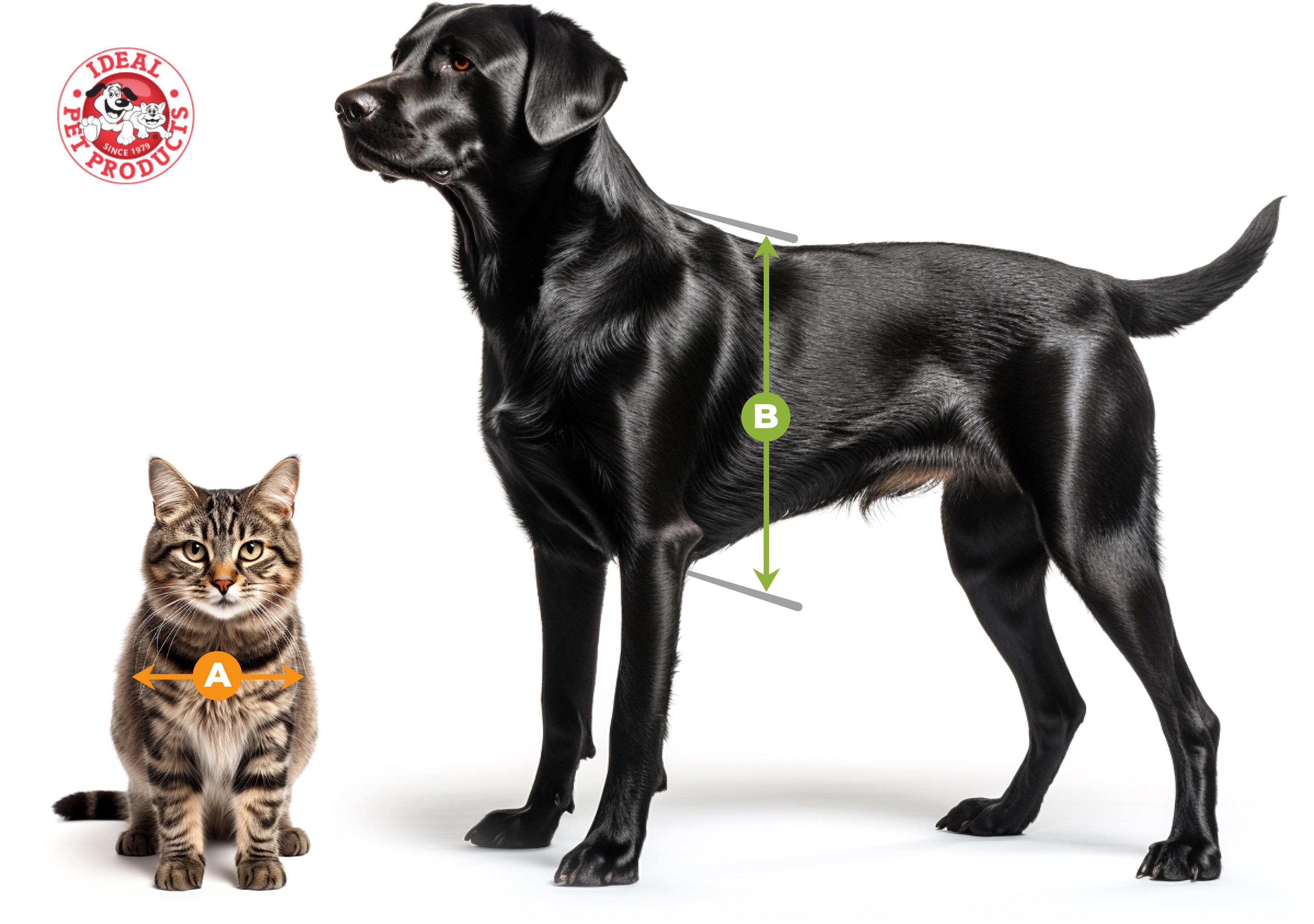 To determine the correct size door, simply measure the width (A) and height (B) of your pet.
(A) Measure the widest point of your pet's shoulder.
(B) Measure from the top of your pet's back (just behind their head) to the bottom of chest.
Pet door models have different size openings. Just make sure your new pet door's opening is both wider and taller than your pet's measurements to ensure they can comfortably pass through.
Very easy to replace. My dogs run fast through the door all day long and broke the last flap after time. I could have tried to fix the flap but I chose to replace the door so the surrounding seal would be new again too. It is like having a whole new door.

Easy to install, works well for my 65 lb 6 year old rescue dog but frame cracks. First one lasted a year, second 6 months. On our third. He is not aggressive at all. May try another brand depending on how long this one lasts

Easy install and attractive.

Works as described and my dog loves it and I don't have to keep stepping away from work to open & close door to let him out.

I live in a very windy city and this Pet Door is the best to keep out the wind and weather. I love the clear door so that the dogs can look outside without sticking her head out the flap. Very easy to install over my previous smaller door from Ideal Pet Door.

This pet door works great. Just train your dog how to use it and it will keep the wind and rain out of your house, while allowing your pet to go outside. The dimensions are accurate, if you measure correctly.

This is a very high quality dog door. We have two young Labs that use it often and vigorously. It is holding up well.

We've now have owned three of these dog doors at different locations. The are wonderful and we highly recommend it.

I love these doors have 2 in our storm doors and 1 in our 3 season dog room they are the best at keeping the cold Vermont air and wind out they are tough we have 3 rat terriers that abuse them daily and these doors take it

Well built, easy to install,