The 900 Series 80" Pet Patio Door Features our Insulator™ Pet Door with Double Vinyl Flaps in an ALUMINUM Frame with Energy Efficient Dual Pane Insulated Glass!
This 80" Standard Model is designed to install into Standard Size ALUMINUM Frame Sliding Patio Doors with Adjustable Height from 75-3/8" to 80-3/8" Measured Top to Bottom Inside Track, and fits into a Track Channel as low as 1-1/8" thick.
Small Flap Size Measures: 5" x 9-1/4" for Pets to 12 lbs
Medium Flap Size Measures: 7-1/4" x 13" for Pets to 35 lbs
Extra Large Flap Size Measures: 9-3/4" x 17" for Pets to 90 lbs
If the sliding patio door needs adjustment to align with your pet door, please click on the "Product Videos" tab below.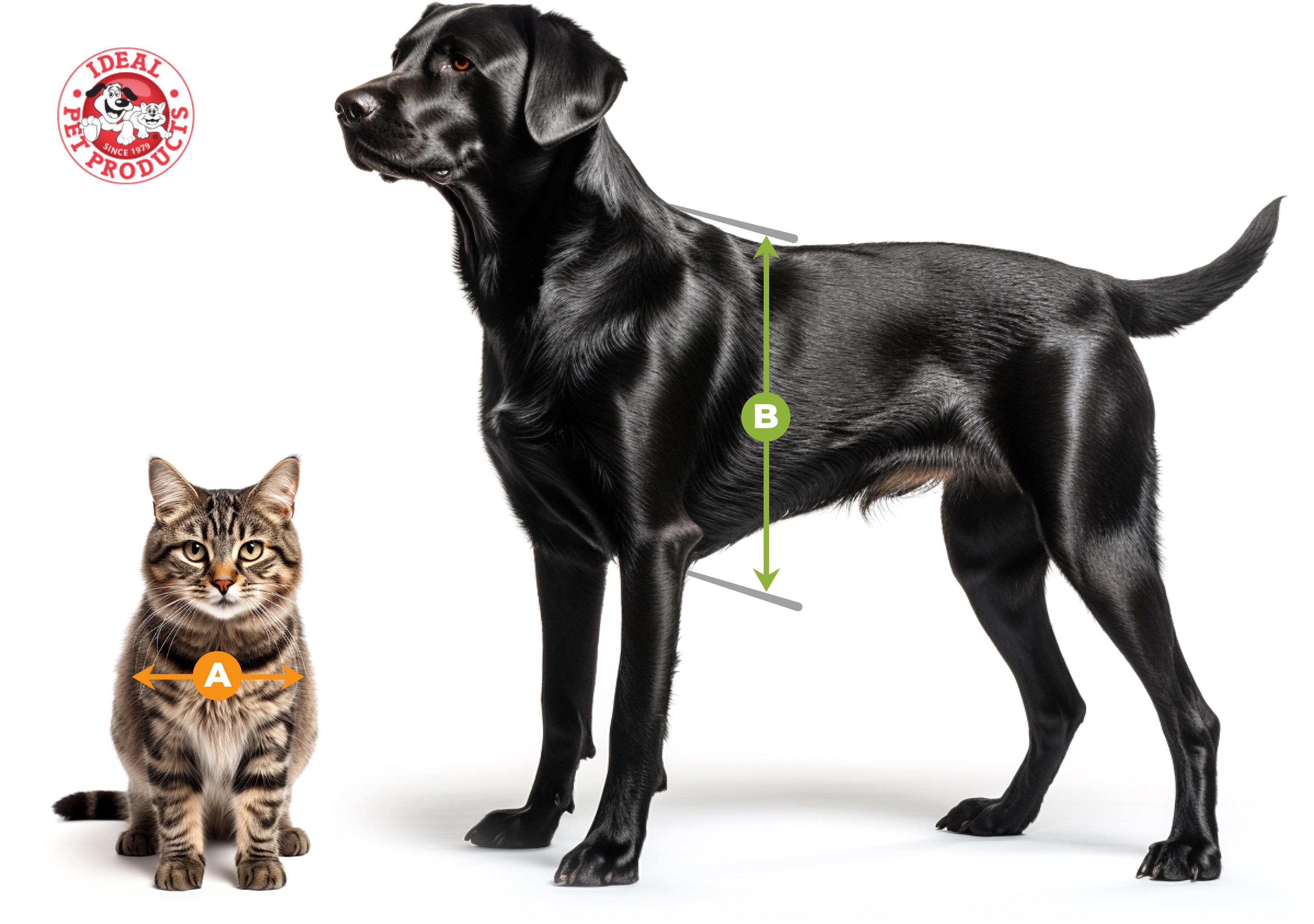 To determine the correct size door, simply measure the width (A) and height (B) of your pet.
(A) Measure the widest point of your pet's shoulder.
(B) Measure from the top of your pet's back (just behind their head) to the bottom of chest.
Pet door models have different size openings. Just make sure your new pet door's opening is both wider and taller than your pet's measurements to ensure they can comfortably pass through.
I have THREE puppies, each around fifty pounds. They use the doggie door all day long and throughout the evening. I was able to install it in a manner of minutes, and trust me when I say I have ZERO skills. Many thanks to the designer of the product.

i wanted white frame but was sent "satin silver". Home Depot filled out order for me so i don't know if they were at fault or the "Ideal Pet Products" supplier . We aim for 100% customer satisfaction. Please Call Us Toll Free at: 1-800-378-4385 Hours : Monday – Friday 8AM – 4PM PST (excluding weekends & holidays)

i wanted white frame but was sent "satin silver". Home Depot filled out order for me so i don't know if they were at fault or the "Ideal Pet Products" supplier. We aim for 100% customer satisfaction. Please Call Us Toll Free at: 1-800-378-4385 Hours : Monday – Friday 8AM – 4PM PST (excluding weekends & holidays)