Free Shipping!
Overflowing with energy and often guided by their natural instincts, your faithful companions don't always go where they're supposed to go and stat where they're supposed to stay. This wandering can cause damage flowerbeds, neighbors' pools, or more seriously, put them in dancer of a traffic accident. The Classic Dog Fence is a modern and highly effective system that enables you to provide one or more dogs with managed freedom within a perimeter that you have defined.
How the pet fencing system works?
You define your dog's play area by installing an invisible dog fence around a perimeter of your choosing. This wireless dog fence is defined by a wire that has been placed on the ground, or buried in your lawn, and carries a radio signal from the transmitter. When your dog, wearing a receiver collar, approaches the electric dog fence, he is warned by beep sounds that he is too close to an area where he is not allowed; then if he carries on, humane static stimulations are emitted from the collar. Your dog will have to leave the unauthorized area to stop the stimulations and beep sounds.
Advantages
unlimited number of collars can be used with one transmitter
integrated safety features
eight stimulation levels available on each collar
Product features
the antenna wire is placed on the ground, buried or raised on an existing fence
for the system to operate, the wire must be connected to the transmitter and form a continuous loop from the transmitter and back again
adjustment buttons on the transmitter enable you to increase or decrease the width of the warning and stimulation zones depending on the configuration of your yard and how the wire is laid
comes complete with 3 safety features:

wire break alarm
warning zone evacuation feature
stimulation zone evacuation feature

an unlimited number of receiver collars can be used with one transmitter: you can keep as many dogs as you wish safely in the same area
eight stimulation levels are available on each collar so you can adjust the product to our dog (size, sensitivity, temperament)
Reliable and efficient
2-year guarantee
waterproof collar
collar battery life: approx. 6 months (normal use)
Specifications
Transmitter:
dimensions: 117 mm x 110 mm x 28 mm (4.6"x4.3"x1.1")
power: 220 V AC
Receiver collar:
weight: 58 g (2 oz) (battery included)
dimensions: 59 x 39 x 31 mm (2.3"x1.5"x1.2")
power: 1 3-V CR2 Lithium battery (supplied)
gray nylon strap – length 64 cm (25") / width 20 mm (.78") – adjustable for neck sizes from 17 up to 55 cm (6.6" to 21.6")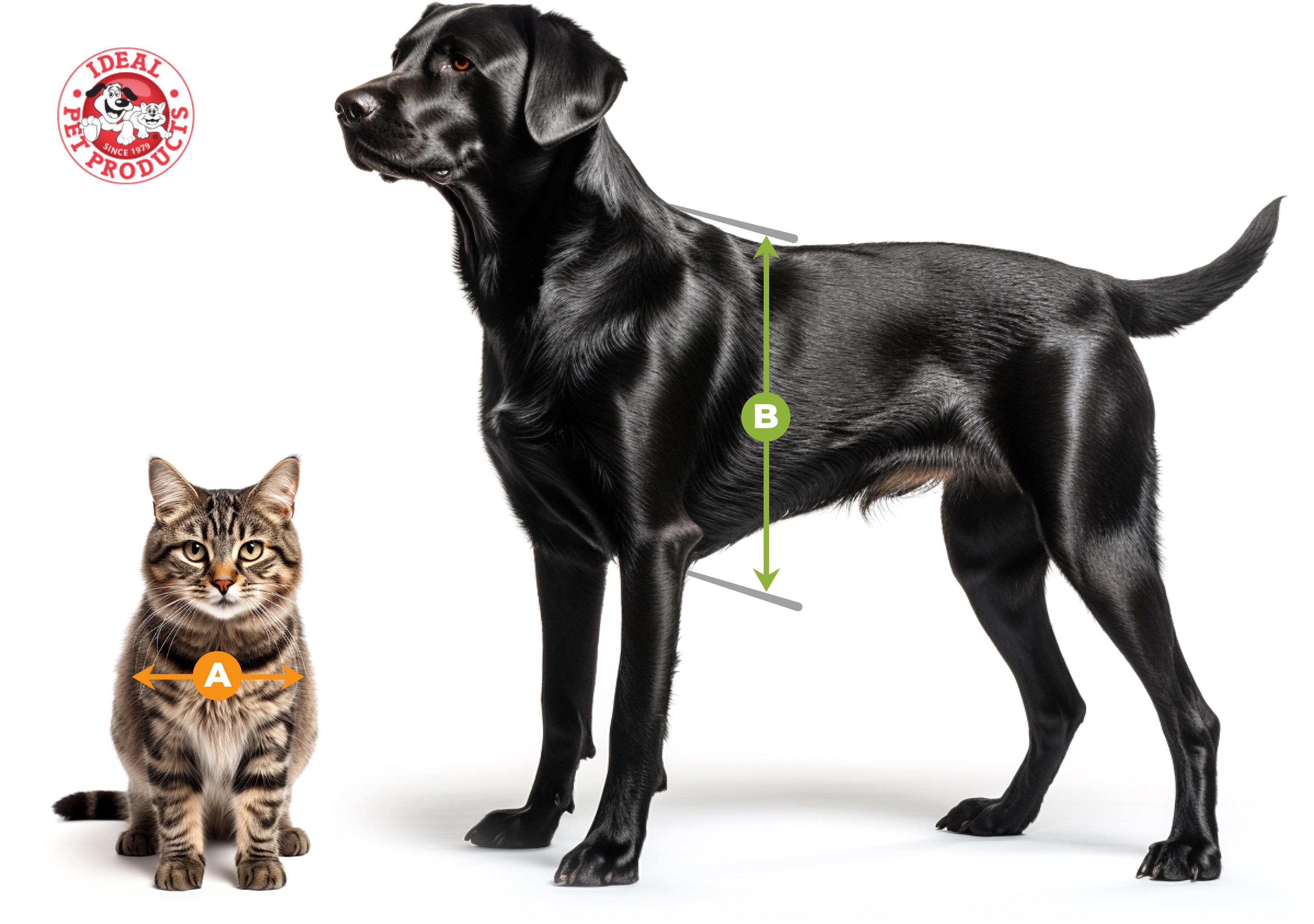 To determine the correct size door, simply measure the width (A) and height (B) of your pet.
(A) Measure the widest point of your pet's shoulder.
(B) Measure from the top of your pet's back (just behind their head) to the bottom of chest.
Pet door models have different size openings. Just make sure your new pet door's opening is both wider and taller than your pet's measurements to ensure they can comfortably pass through.