Give your family some peace of mind with our "Retrofit" Pet Door Alarm Slide™ that alerts you as soon the slide has been moved in the slightest.
Pet Door Features Include:
Batteries and sensor included
Simple installation
| | | | | | |
| --- | --- | --- | --- | --- | --- |
| Fits Pet Door Size | Slide Size | Model | Mfg. | Product/Door Style | Model |
| X Large | 12 3/16" x 173/4" | XLMFUFAA | Ideal | Ultra-Flex | MXFL |
| X Large | 11 5/8" x 17 1/2" | XLPDAA | Ideal | Plastic/Deluxe | PD/DPD XL |
| Large | 14" x 16 1/2" | LTPDAA | PetSafe® | The Pet Door | EL-2-11 |
| Large | 14" x 17 5/8" | LQUAA | PetSafe® | Quick/Easy Fit | P2-LW-11 |
| Large | 10 7/8" x 18 7/8" | LCAAA | PetSafe® | Classic Alum.* | AF30-021-11 |
| Large | 14 1/4" x 19 1/2" | LUAAA | PetSafe® | Ultimate Alum.* | PPDL-11 |
* Quick Fit/Easy Fit, The Pet Door, Classic Pet Door and Ultimate Pet Door are products made by and under the brand name of PetSafe®, a registered trademark of Radio Systems Corporation. Ideal is not affiliated with PetSafe® and Radio Systems Corporation.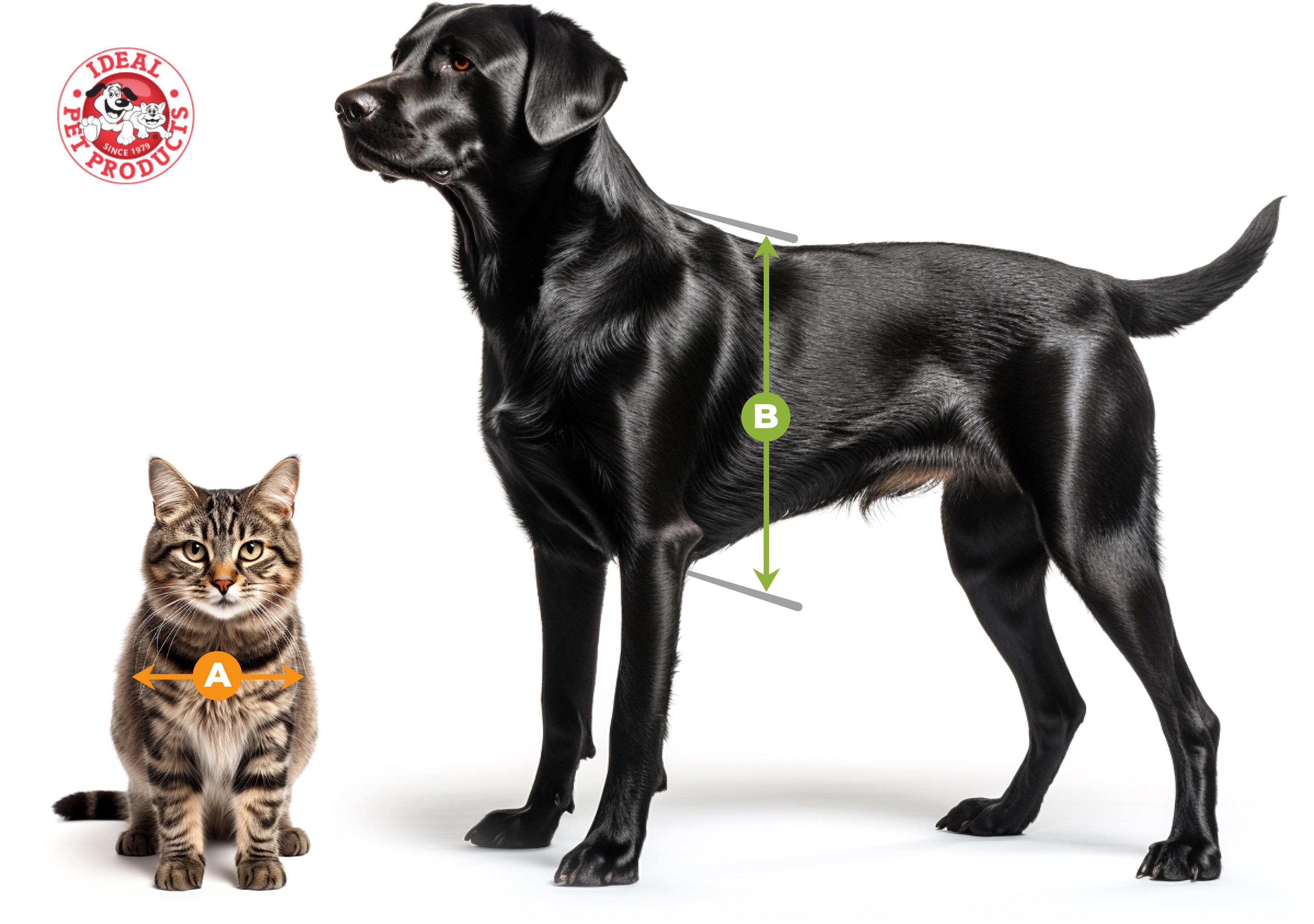 To determine the correct size door, simply measure the width (A) and height (B) of your pet.
(A) Measure the widest point of your pet's shoulder.
(B) Measure from the top of your pet's back (just behind their head) to the bottom of chest.
Pet door models have different size openings. Just make sure your new pet door's opening is both wider and taller than your pet's measurements to ensure they can comfortably pass through.
I ordered the cover per my type of door but the door size was just a tiny hair too wide. Being hard plastic, there was no way to make it work. Also, the included batteries were corroded. When I contacted customer service, they said my model was a few years old (I had gotten the door 2.5 years prior) and so the door won't fit, but they would not take care of the return. They wanted me to ship back at my expense when I had already paid to ship the item in the first place.

Have to return it, the XL slide closure I purchased doesn't fit my "Ideal Pet Product" dog door

Overall works like a regular flap with two exceptions: 1) It does not stay in the up position on it's own so you either take it all the way out and set it somewhere or leave it closed. 2) Once activated with switch the alarm will ALWAYS sound when first opened. It can only be switched off after the door slide is pulled up as the switch is on the back side of the panel and not accessible otherwise. A little alarming for some dogs.